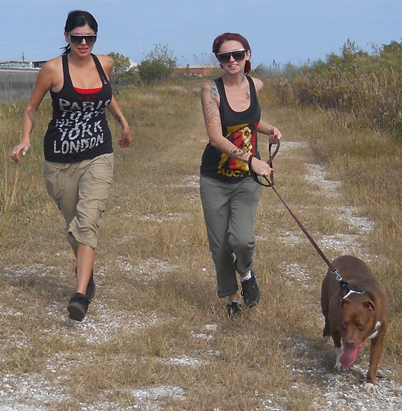 VOLUNTEERING WITH VILLALOBOS
Thank you so much for inquiring about our volunteer programs. Where else can you go and have an amazing time with some great dogs and do it in such a fun place as Louisiana?!  From the festive streets of New Orleans to the country setting of the swamps and woods, we have something for everybody.
But before you make plans there are some things to consider. Because our facilities and organization is connected to a TV show on Discovery, the public attention we receive can be overwhelming. For this reason, we are strict about respecting our workplace and also the privacy and safety of our dogs and staff. All of our programs now have to be monitored by one of our regular VRC staff.  So again, we ask that you respect our guidelines and rules when visiting "our house."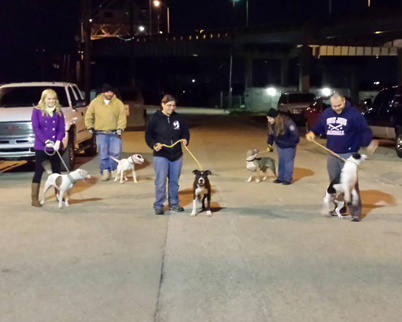 NEW ORLEANS
At our city location, the only volunteer program we have available at this time, is our dog walking.   Conducted at the location that you see on our TV show,  we conduct group walks around the neighboring area.  Or it can be something as simple as sitting down and hanging out with your selected dogs.
We conduct these walks at three different times of the day.  You must show up 5 minutes before the scheduled walks so that you can fill out volunteer paperwork.  Depending on how many people show up, determines the amount of time you will be walking dogs.
The times are as follows: 8:00 am, 1:00 pm. , 4:00 pm, and our final walk of the day at 8:00 pm.
We walk the dogs 7 DAYS/NIGHTS A WEEK.
Try to remember to wear good walking shoes and we do these walks; rain or shine (when it rains the walks are cut short and we stay under the Claiborne Bridge) The "rainy day" walks aren't as fun but the dogs still need to get out.
We also cannot allow children under the age of 5 years to attend the walking program. There are just too many big dogs out at one time and it is just too much of a risk that a little one will get knocked to the ground by an overly zealous pooch. Also no carrying children in "baby packs" or strollers allowed on walks.
You DO NOT need an appointment to come and volunteer to walk dogs. You can fill out the necessary paperwork during a quick orientation when you arrive. Our lead dog walker Kyle will be there to take charge and get you started!
In closing, we do want you to enjoy your time with us and get an up-close and personal look at what we do 24/7, 365 days/nights a year.  To invite the public into "our home" and also to be able to view where the TV is actually filmed…this is not something we have to allow but rather welcome you as a guest.  Just remember, if you are visiting us for anything other than to support the mission behind saving dogs…we probably don't want you walking through our gates.  Just keepin' it real people.