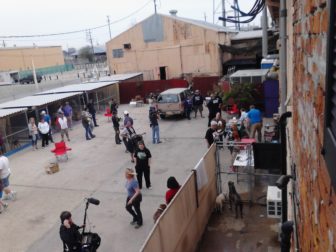 TOUR INFORMATION FOR BOTH LOCATIONS
Villalobos Rescue Center (VRC) is a private, non-profit 501 (C) 3 organization.  We are not funded by the state, city, parish, or any other entity as far as donations go.  We are not "mandated" to be open to the public but rather have chosen to offer this opportunity to our fans, supporters, donors, neighbors, etc.
In the past, we have had some serious problems with visitors coming into and around our facility located in the Upper 9th Ward area of New Orleans. These problems range anywhere from well-meaning and overly zealous fans who do not understand boundaries (running up on Tia Torres and tackling her to the ground to give her a "hug"…while walking a dog) to flat out safety concerns (stalkers that we have actually had arrested and in once case an angry woman who tried to run Tia Torres over).  Because of these incidents and for the safety of our staff, dogs, and Tia's family, we do set specific guidelines in place.
While we absolutely want you to have a good time and enjoy your visit, please do not "run-up" to any of the cast from the TV show.  Both locations are very busy and between trying to juggle the TV and the rescue,  their minds are going a mile a minute.  If they have a free second, they will come to you and say "Hi", take photos, etc.  While we know everyone gets caught up in the excitement, they also tend to forget that the "cast" are not just "TV personalities" but they actually do the work you see on TV.
We just ask that you be respectful at OUR workplace.
NEW ORLEANS LOCATION 
Tours are suspended while we move.
The address for the New Orleans location is 4525 N. Galvez St., New Orleans LA 70117.