My mission is to rescue. My hope is that one day I won't have to.
Villalobos Rescue Center
To send monetary donations & mail:                     P.O. Box 39                        Napoleonville, LA. 70390
To send donated items:        4525 N. Claiborne Ave.          New Orleans, LA. 70117
NEW ORLEANS  LOCATION
4525 N. Claiborne Ave.           New Orleans, LA. 70117
Tours are closed due to COVID restrictions.
My Immortal Duke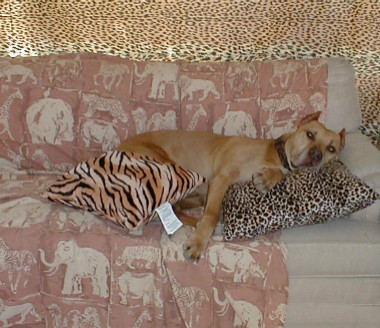 VRC works ceaselessly to give Pit Bulls (and other types of dogs) another chance in life. Each and EVERY dog is taken in and received any and all medical treatment necessary. We work patiently to re-acclimatize fearful dogs to the loving care of a human, so that they may eventually be adopted. In some cases, these dogs have never had a kind word or touch, and it is a slow process. After determining temperaments and compatibility factors, we begin that long search for the perfect home.
Villalobos Rescue Center (VRC) had a life-changing experience in 2011 when we moved from Los Angeles County, CA to Southeast Louisiana.  This decision took us almost a year to implement but it was our rescue efforts during Hurricane Katrina that just kept resonating in our mind and heart. So after almost 20 years in the "Golden State", we made the "Big Easy" our new home.  And in 2014, we expanded and set up another location in the rural country setting of Assumption Parish (1 1/2 hours from New Orleans).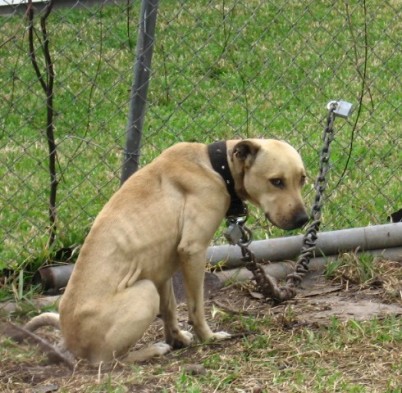 We are now very proud to say that the "Village of Wolves" (Spanish translation from Villalobos) now makes Louisiana their home state. Beginning our journey back in the early '90s as a wolf/wolfdog rescue and now as one of the largest dog rescues in the world, we are where we are needed most.
Phoenix when we rescued him during Katrina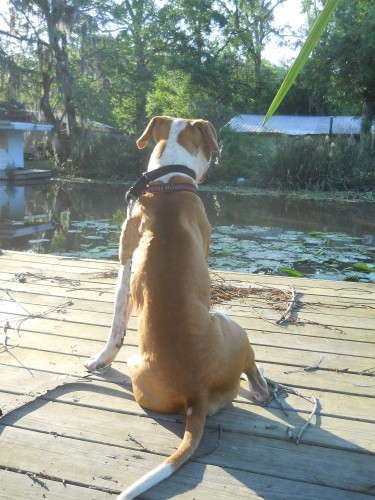 The need for helping dogs in the state of Louisiana is overwhelming. Although we were "warned", we never thought it would be this bad. Because we are now centrally located in the heart of the city of New Orleans (9th Ward), the never-ending flow of stray and unwanted dogs has now become an everyday occurrence. Our normal average population of 400 (give or take) dogs here is quickly increasing. And as much as we wish it was just a matter of "saying no," this is not the case here. Dogs tied to our front gates, turned loose on our street, dogs chained up and abandoned in empty lots where houses once stood prior to Katrina….this is now our daily routine. Vet bills have tripled and it is obviously taking more staff on hand to take care of the dogs. The city of New Orleans and its people have been great to us. We couldn't be happier. But the plight of these unwanted dogs is desperate here and we need to step up our manpower and our resources. Bringing our current California dogs to the "friendliest city in America" was the best thing that's ever happened to them. But it's the ones here in the city now that DESPERATELY need our help. Despite having our own TV show on Animal Planet, it's still unfortunately not enough. The number of dogs in this city that needs help is greater than what we can provide through our TV reality series. They say it takes an entire village to save one boy……won't you join us? #VRCVillage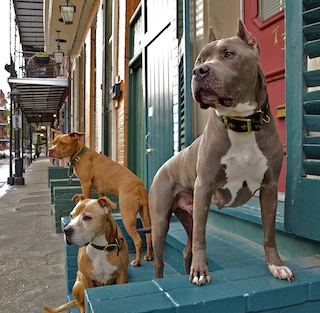 M.J., LARRY & BLUIE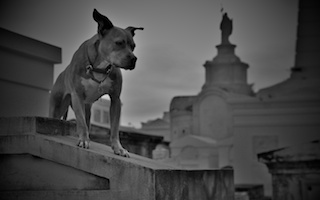 From the historic French Quarter…. to the murky waters of the bayou, the dogs of Louisiana need us…and we need you. And in a city that was so forgotten back in 2005, let's make sure that the people and the pets of New Orleans never feel that hopelessness again. From L.A. to LA. – Villalobos Rescue Center has found its new home. Now let's make sure we can do the same for Man's Best Friend.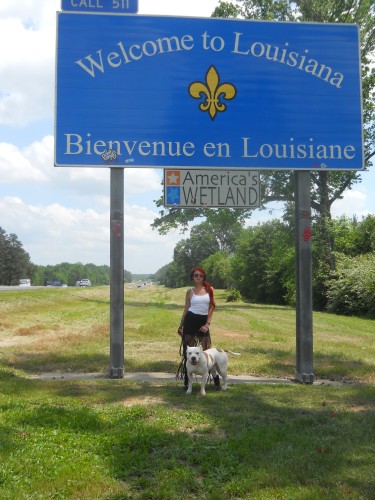 VILLALOBOS BY THE NUMBERS
1. Our average adoption rate is one dog per day.
2. It costs  approximately $10,000/day to run Villalobos Rescue Center
3. We go through 4000 lbs. plus, of dog food a week
4. "Unfortunately" we are the largest Pit Bull facility in the world with a daily average of 400 dogs.
5.  Now that we are located in Louisiana, 99% of the dogs we are rescuing have HEARTWORM disease and our IMMEDIATE out-of-pocket expense is an average of $1000.00 per dog.  This is for spaying/neutering, shots, microchipping, and heartworm treatment.