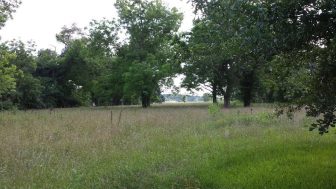 Before we moved to Louisiana and we were back in California, we had 20 acres of rolling hills and fresh air. Since our move to New Orleans, we had no choice but to seek refuge wherever and whoever would accept us.  When moving into a new place it's hard to convince your new landlord to take on a "few hundred Pit Bulls."  Thankfully, we found some caring people who gave us the chance for a new life in the Crescent City.  But renting these various warehouses is extremely expensive.
Several years ago, a generous donor gave us the money to purchase 13 acres in Assumption Parish where we began construction immediately.  With such an interesting history behind it, we found out that the house and land had been around since the early 1800's, and is just a beautiful piece of land.  With this, our dream is to house not only dogs and cats in a rescue capacity but a full-scale educational center for residents of Assumption Parish in proper animal care but also a youth summer camp as well.
Currently, we have begun putting up perimeter fencing  and have just completed our cat houses for the Kajun Kitties of Bayou Corne.  We are also in the process of building housing so that we can finally begin on the dog facilities.
Our goal is to create a paradise in the country so that we may close down all but one of our facilities in the city.  Saving money and creating a better environment for our dogs is our #1 hope.
We are always looking for donations of building supplies, farm/ranch equipment, etc.  Once we are able to move the dogs onto the property, we will be accepting volunteers for this location.  Until that time comes, please be patient as we have had several tough years with a tornado, a flood, and Tia's injury.
Please use our "contact us" page if you wish to donate any items for the sanctuary or a monetary donation. Choose the main "info" option to reach us. http://www.vrcpitbull.com/about/contact-us/