Visit Our Shoppe
The Tahyo Shoppe at 1224 Decatur Street in New Orleans sells t-shirts, artwork, and other custom treats for you and your dogs. Proceeds benefit the rescue.
Volunteer
Thank you so much for your interest in volunteering!
Before you make plans to volunteer with us, there are some things to consider. The first is depending on what time of the year you are coming, the weather can be brutal. The heat and humidity can be extremely difficult for someone to work in if they are not used to this type of weather. Also understand that our volunteer work is PHYSICAL. We do not have any "office work," etc. for volunteers to do. It is all work with the dogs. We also cannot allow children under the age of 18 years, due to the hectic and sometimes fast-paced environment.
Because our facility and organization is connected to a TV show on Animal Planet, the public attention we receive can be overwhelming. For this reason we are limited to what the volunteers can do at our New Orleans location.
Due to recent safety concerns, there will be no contact with the cast from the show and security will be on hand at all times for any volunteering projects.
At this time we have only ONE PROGRAM available:
Dog Walking in New Orleans
There are structured times for you to show up to walk our dogs. To volunteer in New Orleans, simply show up at the designated times to walk dogs (times listed below).
This program caters to our special needs dogs. These are dogs that do not do well out in the main kennel environment so we've set up indoor housing for them. For this reason, they need to go out more frequently than the other dogs… no matter what the weather is!
The walks take you on various routes throughout the neighborhood. Because there are many distractions on this walk and it can get a little bit tiring, we don't recommend small children for this. Depending on the weather, these walks are sometimes shortened to just around the rescue area.
We conduct these walks all throughout the day during the following times:
8:00 a.m.
12:00 p.m.
4:00 p.m. and our final walk of the evening at: 8:00 p.m.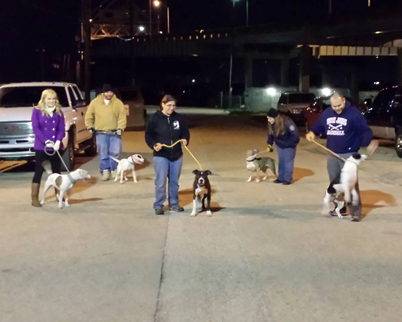 Our evening walk usually results in a fun pack walk. This walk usually goes on until about 9ish and it's a nice way to tucker the dogs out so that we can tuck them in for the night.
Remember to wear good walking shoes (no sandals, flip flops or open toed shoes) and we do these walks rain or shine (when it rains the walks are cut short and we stay under the Claiborne Bridge). The "rainy day" walks aren't as fun but the dogs still need to get out.
We also cannot allow children under the age of 5 years to attend the walking program.
There are just too many big dogs out at one time and it is just too much of a risk that a little one will get knocked to the ground by an overly zealous pooch. Also no carrying children in "baby packs" or strollers allowed on walks.
You DO NOT need an appointment to come and volunteer to walk dogs. You can fill out the necessary paperwork during a quick orientation when you arrive.
Address: 4525 North Claiborne Avenue, New Orleans LA 70117.