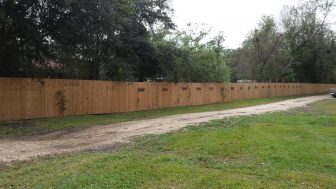 We cannot even begin to express our gratitude with the success of the Adopt A Fence Project for our new Sanctuary property in Assumption Parish, Louisiana. There is no way we would've been able to afford to purchase the materials necessary to get the construction started without your help.
We understand your frustration in waiting to view "your" fence plaque but this is a very time consuming project. We have begun building and some panels are complete but to finish a 13 acre property with only Tia's sons doing the work…well it's gonna "take a minute."
Here is the latest:
We are currently looking into having to hire an actual fencing contractor to get the work done. Of course,
this is an expense we were not planning on having to endure but we just cannot get the volunteer manpower necessary to do this.
We will then set up a specific link on our new website (to be launched by December) where you will be able to view your fence panel/plaque and upload a photo of it for your personal use. Again we are extremely grateful for your donation, 
and
 had hoped that we would've had an outpouring of volunteers to help, but sadly it just didn't happen the way we all wanted.
So be sure to watch our Facebook page as we launch the new website and the progress of this project through our Sanctuary location.
If you still need more information, please feel free to email us at:
[email protected]